Outstanding Performance by a Male Actor in a Leading RoleColin Firth, The King's Speech
Outstanding Performance by a Male Actor in a Supporting RoleChristian Bale, The Fighter
Outstanding Performance by a Female Actor in a Television Movie or Miniseries
Claire Danes, Temple Grandin
Outstanding Performance by a Male Actor in a Television Movie or MiniseriesAl Pacino, You Don't Know Jack
Screen Actors Guild Awards 47th Annual Life Achievement AwardErnest Borgnine
Outstanding Performance by an Ensemble in a Comedy SeriesModern Family
Outstanding Performance by a Female Actor in a Comedy SeriesBetty White, Hot in Cleveland
Outstanding Performance by a Male Actor in a Comedy SeriesAlec Baldwin, 30 Rock
Outstanding Performance by a Female Actor in a Supporting Role


Melissa Leo,
The Fighter
Outstanding Performance by a Female Actor in a Drama SeriesJulianna Margulies, The Good Wife
Outstanding Performance by a Male Actor in a Drama SeriesSteve Buscemi, Boardwalk Empire
Actors featured spoke of value of the Screen Actors Guild, unions and of the need to merge with AFTRA, our sister union. The awards were voted on by the Screen Actors Guild membership after screening committees in each categories narrowed down considerations. The Lifetime Achievement Award was considered in three ballots by the National Honors and Tributes Committee, on which I serve. - Art Lynch
Reports on the SAG Awards: TV Squad
Hollywood Reporter
What the winners said about their awards.
Variety on SAG Awards (and links)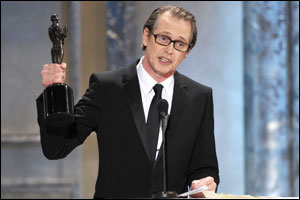 Steve Buscemi, above, accepts the Best Actor award in a television series for 'Boardwalk Empire,' which also took home best ensemble Sunday night.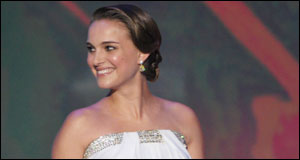 Natalie Portman wins the Best Actress in a motion picture award for Fox Searchlight's ballet thriller, 'The Black Swan.'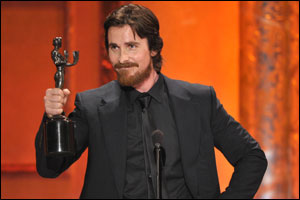 Christian Bale is in good spirits after winning the Best Supporting Actor kudo for 'The Fighter.'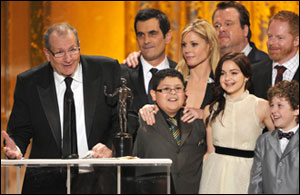 The cast of ABC's 'Modern Family' accepts the SAG award for best ensemble, television comedy series, during Sunday night's broadcast on TNT.
And The Wrap.
And Backstage.