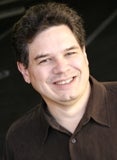 National Board Report
By Art Lynch
I am still getting use to having to dial our area codes, without the "1" in front of it just to check my own voice mail, much less call my neighbors and fellow union members.
I find myself sitting far away from the podium at local meetings, at the bottom of e-newsletter (please scan down) and with fewer and fewer open opportunities to communicate directly with the Nevada SAG-AFTRA membership. Tight budgets, new local leadership and a newly structured union bring many changes.
Change is a constant.
We have to learn and adjust.
We are in a new union, one still young, like the puppy my wife brought home a few weeks ago. Exploring the world, finding strengths, getting to know the environment and our membership and moving forward with our teeth ready to grab on to the prize bones we need to build our futures.
Things are going well, with a few tough hit at the start (like the loss of a local executive and office), and a few new things to get use to (like out new logo, which for the record I voted against, supported by others who have professional design and marketing backgrounds on the board).
The logo, the image it presents of solidarity, and our elected board blending broadcasters, recording artist and all of the fields and areas of employment the new union encompasses, have us moving in a positive new direction.
But we cannot rest on our laurels.
"Even if you're on the right track,
you'll get run over if you just sit there."
- Will Rogers
We need to continue to move forward as a local, attracting as many new members as we can, working together to build work opportunities under contract, to demonstrate the professionalism that is union talent, to help each other during times where work may not be easy to find and to study, practice and showcase our craft in the best possible light.

It is time to take action, to be on the right track and to keep the momentum that began with our fighting for and earning the return of a Nevada-based executive and potential office moving forward for the benefit of all Nevada talent and our industry.

Constant and aggressive work by the Nevada SAG-AFTRA officers, council, committee and membership are what keeps us one of the most active locals in the union. Our attendance at membership meetings and participation in union affairs impresses many other locals.
Instead of assuming a status quo, look into how much your elected volunteer officers and fellow Branch members are doing to not only stay ahead of the train, but help power its engines. Then join in because greater numbers means even more can get done. No action is too small. Everyone can contribute in his or her own way. Help us to keep moving in your interests and in the interests of every SAG member.

We also need to take the time to thank Steve Dressler, Lollo Sievert, Charlie DiPinto, Lenny Turner and all former officers and council / local board members who gave their time to our Branch and local over the years. Many remain active behind the scenes or provide advice and a needed institutional memory.

I can testify to the amount of work you never see or hear about, but which has been done over the years in your best interests and for the Guild, the Union, by a long list of union activists.

A proud "thank you" to all who have volunteered to serve or have given of their time to the Nevada Branch and the Screen Actors Guild, and of AFTRA-SAG and our proud new union.

The Nevada SAG-AFTRA Conservatory is of value for beginners, those still growing and seasoned professionals. Many of you know that I coach actors. A change in my teaching schedule has allowed me to bring students to the Nevada SAG Conservatory. The quality of programs has continued to benefit all talent in Nevada and keep out community plugged into the greater Los Angeles and national industry. At the very least, the conservatory is a chance to use your instrument, and at the most it can be an eye-opening look into the current needs and future of the industry.

Using the conservatory to break the ice, I open this report to tout the value of the programs and committees offered though volunteers, just like you, for Nevada Local members and the union. I would like to invite those of you who took the time to show your interest in the past, and all of you taking the time to read this unofficial report, to join in our active Guild committees and activities.

In the past I have chaired the Legislative Committee. This is not a dry business committee; it is an opportunity to influence how well Nevada competes in the now very competitive world of production incentives, and in doing so, to play an active role in generating active work and income under contract for all Screen Actors Guild members. Right-to-work and other far-reaching legislative issues also are part of the mission of the Legislative Committee.

The Organizing Committee is using phone calls, "tweets" and whatever methods are available to help create an active "get out the members" support for any and all activities that will help us to organize this market, and in doing so generate work for members.

Communications produces the newsletters, assists with e-blasts and works to improve the ability for members to communicate with each other and be kept informed by their union and its elected representatives.

Wages and Working Conditions is a serious and vital part as SAG-AFTRA continuous efforts to provide increased union work within Nevada.

Contact Nevada President Barbar Grant to find out more about how you can become involved in the future of the Nevada Branch.
Committee of Locals Meeting
The Committee of Local is made up of National Board members from each of the locals outside of Hollywood and New York. Unlike the other locals, we do not have a method to communicate in person more than four times a year. We work together using teleconferences, e-mail and U.S. mail. The Committee of Locals is a diverse group of individuals representing the very different and equally diverse needs of their locals, of the small locals, of all members living outside of NYC and LA, and of the national membership. The COL does not have the strength of a full division of the new board, and in some ways has been sub-divided between locals of differing sizes and mission, but it does carry the committment to make sure that we return to the strength and staffing we enjoyed as members of the Screen Actors Guild.
Communication with our members remains a priority, as does maintaining and increasing the amount of work under contract available outside of the production hubs of Los Angeles and New York City.
SAG-AFTRA supports President Obama's health care reform as long as it does not harm or impact the SAG-Producers Pension and Health Plans. The Guild also supports the Employee Free Choice Act.
National Board Meeting
Most often, I participate in national business by telephone or in the Los Angeles boardroom. Every effort is made to save the Guild money in this tight budget year. Often, expense is the major issue discussed by your National Board, weighed against what is needed to advance union work and protect your union rights and privileges.
This is a time of radical and rapid change within the national union movement. SAG-AFTRA needs to decide what "sort of organization we are" and where we stand. We need to market SAG and unionism in the context of the 21st century.

National Executive Director David White said simply, "I and my staff are always proud to serve and sit beside you."

He added, "We must face reality without blinking. The union can, must, has been and shall be relevant, vibrant, alive and significant in the industry and among America's labor movement."

Despite a decrease in the number of employees, inroads have been made to speed residuals.

This is the time to encourage qualified performers to join our union. We are in negotiations on our key Theatrical/Television and related contracts, and have many years ahead of vital contracts and negotiations. Only through solidarity and the support of our membership, can this or any other union stand.
No matter how you may feel about unions in other marketplaces, please join me in strongly supporting SAG-AFTRA in our niche areas of the entertainment arena, including both on camera acting and professional background actors.

There was to be a local membership meeting in May. It it ocured I was not notified. I would hope we have one soon, to update membership...possibly after successful contract negotiations join what were two unions into one strong contract force.
In solidarity;
Art Lynch
(702) 454-1067
dr.artlynch@gmail.com
mail.com